My last few handgun acquisitions have been ugly plastic utility guns. People who know me will tell you that I overwhelmingly prefer steel and wood to plastic. However, Glocks are Glocks. They are good at what they do, and don't have to be pretty to do it. For a carry gun, I want a gun that goes bang when you pull the trigger, and doesn't require any thought to operate other than point, pull, repeat. The G26 does that nicely. And it is both light, and comfortable to carry.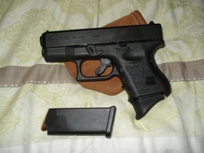 Still, the cognitive dissonance over the lack of aesthetic balance in my collection has been unnerving.

I also have a real love for revolvers, although (surprise, surprise) I've never actually owned one. The utility, elegance, and simplicity of a snubby .38 Spl can't be over-estimated.

So to remedy my complete lack of wheelguns, this afternoon I traded my Bersa (my first ever handgun... sniffle-sniffle) for a blue-steel and wood Taurus.