"sks assault rifle"

It isn't technically a question, it begs for a response. There is no such thing as an SKS Assault Rifle or any other made-up nonsensical media scare-terms.

The SKS is an old, reliable, self-loading rifle, chambered for an intermediate-powered round, with an integral 10-round magazine. It fires one round per trigger pull, just like every other semi-automatic firearm. There is no simple way to safely convert it to fire burst or automatic fire, which is a requirement of "Assault Rifles".

There are many scary-looking accessories available for SKS rifles such as different stocks, optics, laser sights, grips, extended magazines, etc. None of these accessories change how it functions, and most actually impair the rifle's performance.

The SKS was used designed by Sergei Simonov to replace the venerable Mosin Nagant bolt-action rifle which served Russia and other communist-bloc countries for more than half a century. The American army had already successfully fielded the M1 Garand semi-automatic rifle in battle during WWII, so the Soviets understandably felt a need to modernize their arsenal at the onset of the cold war. However, only a few years after production of the SKS began, the more recognizable Kalashnikov Assault Rifle was adopted by the Soviet Army (and subsequently by countless other armies) leaving the SKS as an obsolete weapons platform.

Here is a picture of my Yugoslavian 59/66 SKS.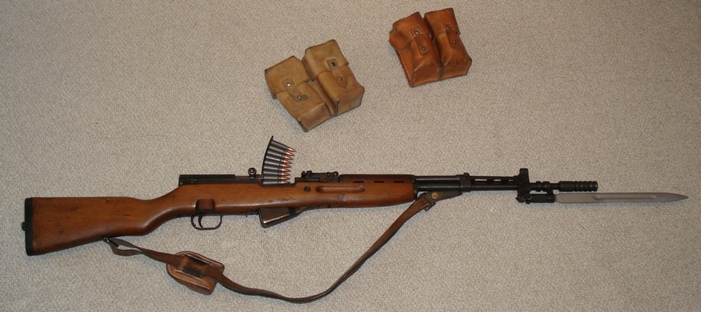 The clip of 10 rounds is positioned to be loaded into the rifle, and the integral bayonet is extended.